"An army marches on its stomach."
While it remains debatable whom among Napoleon Bonaparte, Frederick the Great of Prussia, or Claudius Galen (Chief Physician to the Roman Army) this proverb originates, its truth is self-evident and timeless; without bodily sustenance, a military unit cannot function efficiently. Whether among Aztec warriors in 15th century Mexico or American Troops fighting in the 20th century against the Islamic State, chocolate has a long history as a military ration.
---
As a mainstream military ration, pleasure has never been the goal. From the battles of the Aztec warriors to World War II, chocolate military rations have had inferior taste when compared to other chocolate consumed at the time, because military prioritizes portability and energy efficiency over pleasure.
Aztec warriors were given chocolate that was ground and formed into hard pellets and disks, being easily transported and consumed when the soldiers needed a boost. While the Aztecs had no knowledge of calories, they were aware that chocolate had energy providing properties that could benefit their soldiers.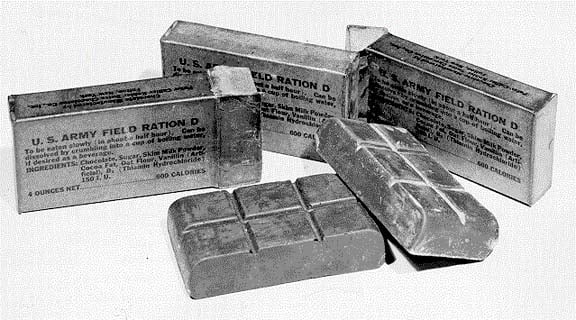 Jumping forward in history to World War II, chocolate, in the form of the highly caloric and poor tasting Ration D Bar, was introduced as an official mass provided ration in the US military.
The Ration D Chocolate Bar was first commissioned by the United States Army in April of 1937. Army Quartermaster Colonel Paul Logan approached Hershey's Chocolate with four requirements for the Ration D Bar:
The ration bar needed to weigh 4oz.
The ration bar needed to be high in caloric value.
The ration bar needed to be able to withstand high temperatures.
The ration bar needed to taste "only a little better than a boiled potato."
Due to these requirements, Hershey's Chief Chemist at the time was forced to develop production methods exclusive to the Ration D Bars. Each four-ounce portion had to be kneaded, weighed, and pressed into a mold by hand. The end result was heat-resistant to 120°F. Three bars sealed in a parchment packet made up a daily ration of 1,800 calories for the individual soldier.
In order to achieve the high caloric value while avoiding a pleasurable taste, Hershey's manufactured it with a higher chocolate liquor content than sugar. This final requirement sought to keep soldiers from eating their emergency rations in non-emergency situations. In achieving so, the D ration was detested for its bitter taste by U.S. troops, and there were reports of many being discarded rather than consumed when issued.
---
Military ration chocolate continues to see advances, but portability and energy efficiency over satisfaction remains the same. During Operation Desert Storm in the 1990s, the US Army Natick Labs created a chocolate bar, nicknamed the Congo Bar. The bar could withstand temperatures up to 140°F after chemists learned how to rearrange the molecules in cocoa butter. In 2008, Natick introduced chocolate-covered espresso beans to its list of options available in MRE (Meal, Ready-to-Eat) rations.
---