---
"Locavores," chocolate lovers, and elephant enthusiasts all have a great reason to cheer this November as Red Elephant Chocolate, with its original café and corporate office located in Milwaukee's Historic Third Ward, celebrates its third year of business as a leading pioneer of the chocolate café concept. In-house chocolatiers craft all of Red Elephant's handmade chocolate delights, with a few select café products sourced from local artisanal producers. In addition, staff at the Milwaukee and newly opened Madison Chocolate Cafes take pride in delighting guests with made-to-order all natural chocolate based beverages, ice creams, and desserts.

In May of 2015, Red Elephant Chocolate opened its second cafe on Madison, Wisconsin's State Street directly off of Capitol Square. Building upon the original concept created in Milwaukee, the location offers its guests and chocolatiers three times the space for relaxing and enjoying. While still emphasizing the enjoyment of premium chocolate and the dine-in "chocolate experience," Madison's location also offers select wines and fine Wisconsin cheeses.

To celebrate it's 3rd anniversary (lovingly referred to as an "Eleversary") on Sunday, November 22nd, Red Elephant will be offering complimentary Black Diamond Hot Chocolate and Cocoa Bean Tea at both its Milwaukee and Madison chocolate cafes throughout the weekend. Red Elephant's mascot elephant, "Cocoa," will be parading around each location for those guests seeking to photograph an "elphie." During the celebration, "cocoa coaches" staffed at the cafes will encourage guests to win chocolate by participating in "cocoaphact/ele-phact" trivia.

For the duration of the weekend, Red Elephant will also be offering a limited pairing of a Milk Chocolate Birthday Cake Truffle and a Dark Chocolate Sea Salt Caramel packaged in a two-piece clear favor box. While this offering would normally have a retail value of $6.50, it will be sold exclusively for $3.95 during the event. Additionally, for every Eleversary duo purchased from its respective Milwaukee and Madison cafes, Red Elephant Chocolate will donate $1.00 to either the Sojourner Family Peace Center in Milwaukee or a similar non-profit organization in Madison.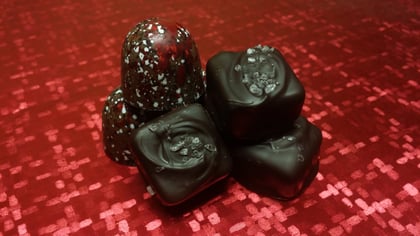 The Sojourner Family Peace Center serves as a non-profit provider of domestic violence prevention and intervention services in the Milwaukee community. When questioned why Red Elephant chose these types of non-profit organizations as it's donation recipients, owner Richard Koenings had this to say, "Elephant families are primarily matriarchal, meaning that the wisest females are looked to as leaders of their group. They are extremely protective of their young, and will place themselves between a predator and the young to ensure their safety. Similarly, we appreciate and commend the aid and protection Sojourner Family Peace Center and other organizations like it make available to families in times of need."

Red Elephant invites all to a sweet kick off of the holiday season with its Eleversary weekend Friday, November 20th-Sunday, November 22nd. Enjoy the festivities while helping donate to our communities and witness what Milwaukee, and now Madison, has come to know as A Chocolate Experience You'll Never Forget™.