Mother's day and every day is the perfect time to boast about moms of all forms,
and that includes elephants.
---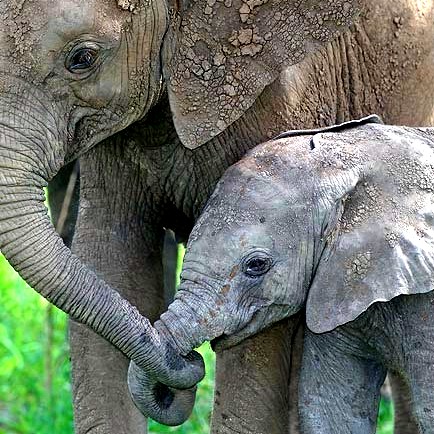 Elephants are a Matriarchal society, meaning that any given herd is lead by the oldest and wisest female. Once they are grown, males are expected to leave the herd to fend for themselves. This leaves the lead female responsible for all of the others. Among her duties are mapping out territory, locating food and water, and providing protection from predators with help from the rest of the females. A full grown bull elephant is large enough to defend itself from lions and other predators, but the females are not. Thus females remain in herds, which requires them to travel greater distances to ensure that there is enough food of a wide variety for the entire herd.
---
While elephants can't buy chocolates as a gift to thank mom for protecting the herd, we are able to show our love and gratitude for mom all year long. This is never more true than at Mother's Day, when we take time out to thank mom for all the years of protection, care, meals, and generally being available for whatever we may need. Give your mother the gift of time, the gift of love, and the gift of A Chocolate Experience She'll Never Forget this Mother's Day.
---